Scotland Destination Guide
A land of stunning natural scenery, incredible history and a thriving arts and cultural scene, Scotland is a nation comprised of more than 790 islands located in the north of the United Kingdom. Offering countless opportunities to explore its varied landscape, Scotland holidays are popular for both short city breaks and long journeys through the gorgeous countryside, towering mountains and rugged coastlines.
Scotland tours can take you to any of the country's iconic castles – if you start in the area of Aberdeenshire there is even an official castle trail dedicated to 17 of Scotland's most famous castles.
Other historic sites include old battlefields, such as Bannockburn and Culloden and five UNESCO World Heritage Sites – the oldest being the Heart of Neolithic Orkney, an important Neolithic site dating back 5,000 years that is comprised of four unique monuments.
Scotland is also a nature lover's haven and it is possible to participate in outdoor activities such as golf, cycling, hiking, fishing and horse riding. Your Scotland travel guide will help you choose the best area for the activities you plan to engage in.
You may wish to explore the rolling hills for a leisurely hike or scale some challenging mountains for something more difficult; no matter what you choose you are sure to be rewarded with incredible views.
Beachgoers won't be disappointed, as Scotland's rocky coastline is beauty at its purest and while it may be chilly for swimming, it is the perfect place to snap some magazine-worthy photos.
Follow the Whisky Trail through the rolling hills
Booking flights to Scotland is worthwhile simply for the chance to visit Cairngorms National Park, the perfect place for anyone to enjoy a few days of breathtaking natural beauty mixed with fun visits to local castles, breweries and distilleries. As Scotland is a major producer of malt whisky, you can even follow the world's only Malt Whisky Trail, dedicated to Scotland's 'water of life'.
Another must-visit destination is Aberdeen, famous not only for its many excellent castles but also for its world class museums, shopping, restaurants and nightlife. Lastly, no visit to Scotland would be complete without spending some time in Edinburgh, the capital and second largest city.
Edinburgh is full of incredible architecture, great food and year-round festivals and events. From the stunning Edinburgh Castle to the charming Old Town, you are sure to find something to pique your interest and capture your heart in this classic old-world city.
A country of incomparable beauty and isolated corners of perfection, mixed with historic cities offering culture art, and history, Scotland is a unique travel destination just waiting to be discovered.
Drive the North Coast 500
Touted as Scotland's answer to Route 66, this new 804-kilometre touring loop has already been named one of the world's top coastal drives. Starting and ending in the city of Inverness, it loops around the far north of Scotland, delivering an intriguing mix of spectacular scenery, history and local culture.
Highlights include the distinctive Suilvenm mountain, the fairytale French chateau-style Dunrobin Castle and the stunning deserted beaches of Achmelvich and Dornoch.
Make sure you stop to admire the Old Man of Stoer, a 60-metre-high sandstone sea stack, and visit Smoo Cave, a towering limestone sea cave.
En route you'll experience Scotland's legendary hospitality in the many pubs, inns and restaurants that line the route. Sample fresh seafood at the Kishorn Seafood Bar in Wester Ross or stop in for a wee dram and some traditional music at the Ceilidh Place in Ullapool.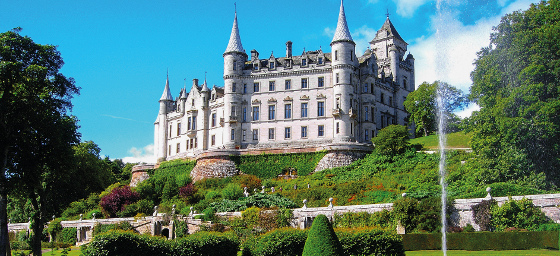 Visit Galloway Forest Dark Sky Park
Scotland's Galloway Forest Park was declared the UK's first Dark Sky Park in 2009, due to its exceptionally low levels of light pollution. On a clear night more than 7,000 stars and planets are visible with the naked eye, including the Milky Way.
Scattered throughout the park are public viewing areas with interpretative boards that explain this spectacular nightly show. But for an even more immersive experience, book a tour at the Scottish Dark Sky Observatory, a publicly accessible educational observatory that occupies a commanding hilltop site on the edge of the park.
During a typical session, you'll enjoy an introductory presentation from the observatory's resident astronomer, a guided tour of the complex and a chance to use its two high-powered telescopes. If you're lucky you'll get to admire Andromeda Galaxy, our nearest neighbour that's still a staggering 2.5 million light years away.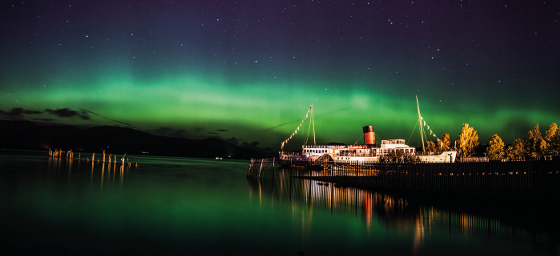 Tackle the John Muir Way
Opened in 2014, this 215-kilometre trail celebrates the life and work of Scottish conservationist John Muir, who was instrumental in founding America's national park system.
Starting in Muir's birth town of Dunbar, the trail heads west, following quiet roads, disused railway lines and canal towpaths until it arrives in Helensburgh on the west coast.
Don't worry if you don't have time to do the whole thing – the route has been divided into 10 easily accessible sections, which can be tackled by foot or by bike.
Highlights include Loch Lomond, Britain's largest inland stretch of water; the 63-kilometre-long Roman-built Antonine Wall and the ruins of Linlithgow Palace, the birthplace of Mary Queen of Scots.
You'll find plenty of sustenance, from a delicious afternoon tea at 17th-century Hopetoun House, Scotland's finest stately home, to a whiskey tasting and tour at Glengoyne Distillery.
Words: Rob McFarland
Read More
Featured Destinations