One Island Stop Isn't Enough To Reveal The Full Range Of Hawaii's Colourful Soul
Mai tais, world-class surf breaks, summer weather year-round and idyllic beaches that inspire poetry are just some of the ingredients that lure the masses to Hawaii.
While this archipelago might be a tropical getaway for all budgets, each isle carries its own secrets: cowboys on Hawaii, the Big Island, redwood trees in Kauai's Kokee State Park, organic farms in Maui's upcountry, a ghost town on Lanai's backroads, waterfall treks on Oahu … These are just some of the surprises you'll encounter with enough time to explore America's 50th state.
Just visiting popular Oahu won't clue you in to the soul of the entire state. The colourful shades of Hawaiian culture vary from country to beachy, from metropolis to simplistic. A multi-island trip to this South Pacific paradise allows a comprehensive look at the pulse of Hawaii's diverse landscape and people. Here's a rundown of the overarching personalities of each island …
The island for partygoers
Most people flock to Oahu for its reputation of having some of the best surf breaks on the planet, yet Hawaii's most populous island also lures culture hounds, retail fiends and those who want to sleep off their late nights on the sand.
Home to the bustling metropolis of Honolulu, Oahu has recently cemented its place as a world-class food destination with a lively nightlife and arts community.
For all its urban hustle (which unfortunately includes a hefty dollop of traffic), just outside of Honolulu are some of the state's most picturesque beaches, leisurely drives and hikes, all well worth a day trip.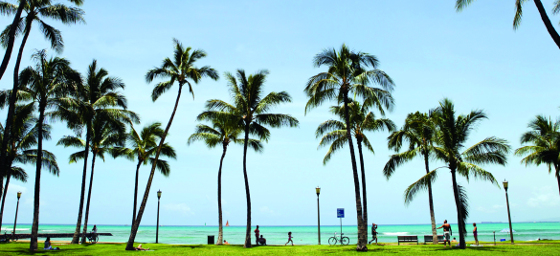 Best hotel: The Modern Honolulu pleases hipsters with a sleek design, ocean-view rooms, two pools, a mixology program that attracts the masses, the upscale Morimoto Waikiki restaurant, and a wild outdoor nightclub around a mod pool.
Best local beach to see and be seen: Flanked by Diamond Head, Waikiki's San Souci Beach borders Kapiolani Park and is beloved by locals for its calm swimming and celebratory atmosphere.
Best cocktails: Pint + Jigger is essentially a brewpub with a killer cocktail program. Get your drink on with cocktails like the Smoking Gun (a blend of tequila, fresh lilikoi and macadamia syrup).
Best tiki bar: La Mariana Sailing Club is one of the last staples of Oahu's tiki culture. Expect kitsch decor, mai tais served in wooden statues and salty sailors telling tales.
The island for adventurers
If your idea of a tropical vacation includes volcano viewing and hiking to secret beaches, as well as sampling a local kava tea known to induce a higher mental state, Hawaii, the Big Island beckons.
The sunny Kailua-Kona side features upscale resorts, epic beaches teeming with sea turtles and outstanding coffee farms. The rainier Hilo side has plenty of greenery to explore.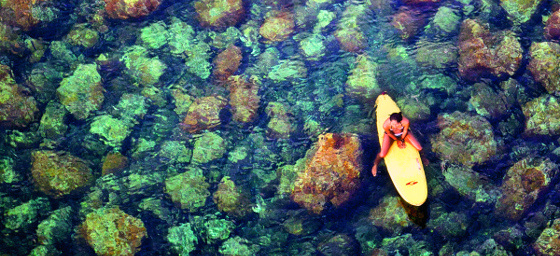 Best hiking trail to a killer surf break: The Waipio trail ranks as some travellers' best hiking experience. But it's a schlep – especially if you're lugging your board.
Best way to see lava: One of the most fun things about visiting the Big Isle is spotting lava. Book a Hawaii Volcano Adventure for ultimate lava looking.
Best remnant of Kilauea's fierceness: Motor around the renegade community of Pahoa – a town battered by the volcano time and time again – to view the Cape Kumukahi lighthouse, which amazingly still stands after being surrounded by fiery lava.
Best way to soothe those muscles: Pahoa's Kalani retreat centre is the locals' go-to spot for traditional Hawaiian lomilomi massages.
The island for family fun
The Valley Isle consistently rakes in awards as a favourite destination for sun- worshippers. But technicolour beaches populated with reef fish, dolphins and migrating whales, an up-and-coming foodie scene and the state's most alluring drive also add up to a pleasant family escape.
From the vacation paradise of Lahaina and Kaanapali Beach on the west shore, to the celeb hideout in the funky community of Hana and finally up onto the slopes of Haleakala (the island's dormant volcano) where an arts community is flourishing, Maui seems ready to dress up as a new persona at every turn.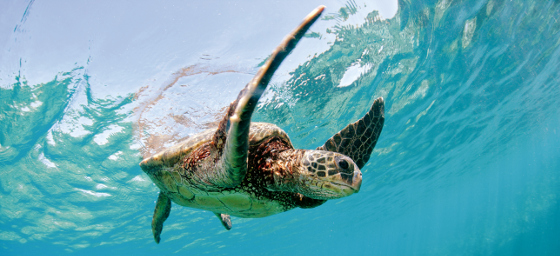 Best affordable feed: The brainchild of TV-star chef Sheldon Simeon, Star Noodle fuses dishes from across Asia with an island twist.
Best family water activity: Kayak, snorkel and splash around with a Kayak and Snorkel – South Shore Turtle tour. Kids will jump at changing up the activities, while adults will enjoy taking in views above and below the sea, and everyone will love spotting green sea turtles.
Best glimpse into nature: Maui Ocean Center delivers a face-to-face view of sea mammals, tropical fish and even a glance at Hawaii's elusive state fish, the humuhumunukunukuapua'a.
Lanai
The island for lovers of luxury
Boasting two Four Seasons resorts, the only privately owned Hawaiian island tourists can visit caters primarily to travellers with cash to burn.
While you'll get your share of powdery sand beaches and baking sun, the secret appeal of Lanai is her Cook pines and cool interior – an escape for native Hawaiians in summer. The main town of Lanai City encircles a patch of grass, and the roads out of town either deliver you to the Manele Bay resort or turn to gravel and dirt, leading to an off-road adventure for those who don't mind having their breakfast shaken into a milkshake.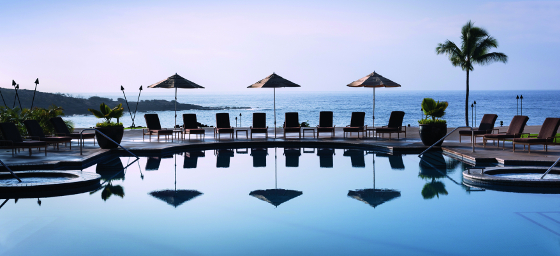 Best oceanfront dinner: The new Nobu Lanai at the Four Seasons Lanai at Manele Bay delivers top-notch Japanese cuisine with views of the sea, making it the ideal place to propose.
Best alpine resort in the middle of the South Pacific: Four Seasons Lanai The Lodge at Koele is where Hawaiians go for a holiday. This plantation-style golf retreat features Japanese gardens, a small spa and rooms fit for royalty.
Best romantic afternoon: Want to play out your historic fantasies of grandeur? Take a horse-drawn carriage ride through Lanai City with Lanai Western Adventures.
Best spa day: Relax in the spa at the Four Seasons Lanai at Manele Bay with a hot-stone massage, followed by the chance to craft your own perfume, and then a poolside lunch.
The island for tropics lovers
When people think of tropical getaways, the vision of Kauai springs to mind. Abundant gardens abloom with colourful flora, white-sand beaches populated with surfers and monk seals, and fresh ahi poke straight from the sea. Kauai gets a bad rap for its average annual rainfall, but the local saying is: "You can't get rainbows without rain."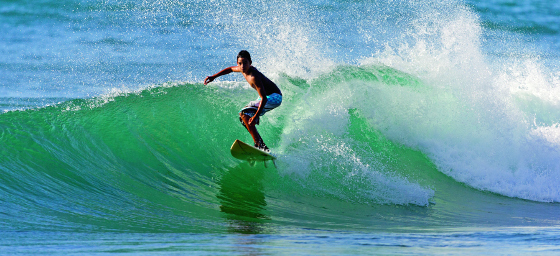 Best beach for a sunset cocktail: Hire a 4WD and head to where the  southern shore meets the Na Pali cliffs. The 11-kilometre Polihale State Park beach beckons romance-seekers, kamikaze surfers and campers. BYOB.
Best surf spot for mixed levels: Kids and mainlanders ride the waves by the Hanalei Pier, while more experienced wave-riders take to the northern-most point break. Your best bet is to take an introductory surf lesson, then make like a pro.
Best (fancy) traditional Hawaiian cuisine: Looking to don that cute summer dress and enjoy a brilliant meal? Hukilau Lanai might be located at a timeshare property in Kapaa, but this open-air favourite delivers a fresh island catch paired with an affordable wine list and live music that will make you dream of Kauai for years.
Molokai
The island for off-the-grid travellers
Hawaii's least visited isle, Molokai pleases a do-it-yourself traveller. There are no restaurants to speak of, no real sites, attractions or services – but there is a petrol station that sells microwaves and a bookstore that doubles as the post office.
The allure of Molokai is to travel back to a simpler time, when tourism wasn't the be-all and end-all of Hawaiian culture. Here the beaches are lovely, the hiking will blow your mind, and the chance for serenity doesn't come at a huge price. This is the isle to book a rental home and ease into Hawaii's slow pace.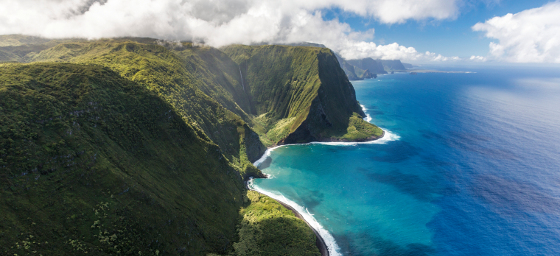 Best real-deal luau: Friday evenings, just before sunset, the entire island seems to descend on Hotel Molokai's beachfront patio to hear elders strum ancient Hawaiian melodies on their ukuleles.
Best coffee you can afford: Everyone talks about Kona coffee on the Big Isle, but Coffees of Hawaii on Molokai might have everyone beat. Sit on their wooden porch on a Sunday afternoon and listen to locals serenade the sun.
Best souvenir: You've got to love an island where the only real souvenir is salt harvested from the land by Pacifica Hawaii.
Best view: Soar over the majestic island for the best moving view of Molokai and Maui taking in stunning scenery – think dormant volcanoes, colourful lava flows, expansive valleys and lush rainforests valleys.
Our top 10 Hawaii attractions
1. Waikiki Beach:
With scenic Diamond Head as its backdrop, this world-famous stretch of white sand is a holiday playground, bursting with hotels, restaurants, shopping and nightlife. Book a surf lesson, go paddle boarding or simply lie back on a patch of sand and enjoy some people watching.  Don't miss getting a photo beside Duke Kahanamoku, 'the father of modern surfing', who has been immortalised in bronze.
2. Pearl Harbor:
The bombing of Pearl Harbor in 1941 was the catalyst for the United States to enter World War II and was the site of their worst naval defeat.  Historic sites not to be missed include USS Missouri, where the Japanese surrender ceremony took place, and the poignant USS Arizona Memorial, erected over the sunken ship that became a tomb for hundreds of young men.
3. Diamond Head:
The wide saucer-like crater of Diamond Head was created by a single volcanic eruption around 300,000 years ago and is Hawaii's most recognisable natural landmark, known for its historic hiking trail, stunning views and military past.
4. Bishop Museum:
Established in 1889 to house the artefacts and royal heirlooms of Princess Bernice Pauahi Bishop, today the museum is considered to have the best collection of Polynesian culture in the world.  The five exhibition halls house over 25 million items and showcase the history, culture, environment and arts of Hawaii and its Pacific neighbours.
5. 'Iolani Palace:
Completed in 1882 and the only royal residence in the United States, this ornate mansion was built for King Kalakaua in order to enhance Hawaii's international standing. Visitors can explore the meticulously restored first and second floors of the palace on a guided tour, which includes the opulent Great Hall, Throne Room and Private Suites.
6. Polynesian Cultural Center:
Explore six authentic Polynesian island villages - Tahiti, Tonga, Fiji, Samoa, New Zealand and Hawaii – at this hands-on cultural extravaganza.  Have a go at spear throwing, compete in a canoe race, light a fire with just two sticks, or discover the art of Samoan cooking.  End the day with a delicious luau feast and enjoy traditional entertainment incorporating fire, song and dance.
7. Hawaii, The Big Island Volcanoes:
From raging volcanoes to serene waterfalls, Hawaii, The Big Island embodies power and beauty. Jump on a tour and fly to the island to visit the awe-inspiring Hawaii Volcanoes National Park. Witness the workings of Madame Pele, the goddess of fire, trek through the lava flows of Kalapana and the Halemaumau Crater, and see beautiful Rainbow Falls.
8. Haleakala Skyline Adventure:
This adventure blends a short hike with five heart-pumping zip-line crossings. Trek through Maui's lush Upcountry before experiencing the thrill of soaring over ravines and through trees along the slopes of one of the world's largest volcanoes, Haleakala. 
9. Molokini Snorkelling:
Cruise Maui's scenic coastline on the Pride of Maui to the unique underwater paradise of Molokini Crater. Its stunning coral reef, colourful marine life and calm shallow waters will guarantee an unforgettable snorkelling adventure.
10. Kauai Day Tour:
Fly to Kauai and experience the breathtaking natural beauty of the 'Garden Isle'. Visit Waimea Canyon, 'the Grand Canyon of the Pacific'; cruise up the lazy Wailua River; hear the famous Hawaiian Wedding Song at the romantic Fern Grotto; see the site of Captain Cook's first landing; and visit the beautiful Hanapepe Valley Lookout.