England Destination Guide
England holidays provide a multitude of activities and sights for the entire family. From London's bustling sprawl to The Lake District's breathtaking natural beauty, the traditional estates of rural England to Liverpool's fascinating Beatles Museum, England packs a punch with visitors despite its postage-stamp size.
England's cultural hub London is bursting with music, art, theatre and over a thousand years of absorbing history. Its countless pubs and music venues offer musical performances to suit all tastes – from rock'n'roll's rising stars to stripped back acoustic shows. London attractions include The Tate Modern, the Saatchi Gallery and British Museum, which offer the best in world-class contemporary art.
A trip to London wouldn't be complete without clapping eyes on Big Ben, Westminster Abbey and Buckingham Palace. London is also a shopping mecca, with High Street fashions on the cutting edge of world trends and plenty of vintage treats up sale in Portobello Road's famous markets.
Heritage and history beyond London's limits
Take the time to venture outside London to enjoy England tours in the nation's rolling green countryside. The Lake District has long been a celebrated icon of English beauty and has been a designated national park since 1951. Made famous by the poems of William Wordsworth and Samuel Coldridge, The Lake District has been immortalised for its picturesque views, walking trails and lush countryside.
Many of England's oldest homes and country estates still exist and are open to the public, evoking the lucid imagery of Jane Austen's Pride and Prejudice. Original Georgian architecture surrounds the stunning spa town of Bath in semi-rural Somerset. Established on the sight of natural spa waters, the town of Bath grew as a fashionable escape for wealthy 18th Century aristocrats and was renowned for its restorative properties.
Today Bath is a UNESCO World Heritage Site and one of England's most popular tourist destinations. Other noteworthy estates include Hampton Court Palace in Richmond, Windsor Palace (one of the official residences of the Queen) and Chatsworth House in Derbyshire, which features as 'Pemberley' in the BBC adaption of Pride and Prejudice.
In contrast, Liverpool's Beatles museum is a living monument to the Fab Four. An atmospheric journey into the lives and times of England's most enduring band, the museum puts their hometown firmly into the spotlight. Best of all, it evens features a yellow submarine! So what are you waiting for? Book a cheap flight to London and experience England's history and culture today.
Bond-style adventures in London
Who can forget the opening scene from The World is not Enough when Pierce Brosnan chases an assassin along the River Thames and up on to the summit of the O2 arena?
Budding Bonds can recreate the experience (with a little less shooting) courtesy of London RIB Voyages, which offers a range of high-octane thrill rides along the river at speeds up to 55 kilometres per hour. You'll pass many of the city's big-ticket tourist attractions, such as Big Ben and St Paul's Cathedral, plus more recent additions including The Gherkin and The Shard.
To complete the adventure, don a climb suit and harness and ascend to the top of the O2 arena for spectacular 360-degree views of the city. You can choose to climb during the day, at sunset or at night, when the capital's distinctive skyline transforms into a hypnotising blur of twinkling lights.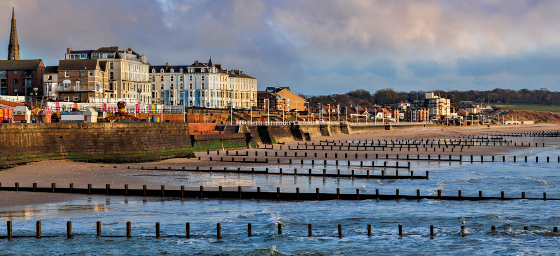 Cycle the Way of the Roses
England's traditional Coast-to-Coast trail tends to get all the cross-country glory, but the 273-kilometre Way of the Roses is another equally scenic option.
Established in 2010, the route starts at Morecambe on the east coast and finishes at Bridlington on the west. Along the way it passes through the market towns of Settle and Ripon, the historic city of York and the majestic scenery of the Yorkshire Dales.
You could easily tackle it on your own, carrying your own gear and arranging your own accommodation, but let's face it, that doesn't sound like a holiday. Instead, join an organised tour where experienced guides will chaperone your meanderings.
Cycle for several days through some of England's most picturesque scenery, stay in quaint, historic villages and feast on hearty pub grub after the day's exertions. Now that sounds like a holiday.
Try coasteering
Climb, swim and scramble your way along the UK coastline in this increasingly popular adventure activity. After being kitted out with wetsuits, life-jackets and helmets, you'll be guided along a section of dramatic coastline by expert guides. Jump off cliffs into swirling pools of water, hop between rocky outcrops, slide down natural water chutes, explore hidden sea caves and swim into secluded coves.
The activity was pioneered in Pembrokeshire in Wales, but can now be done in Anglesey, Dorset, Cornwall and the Highlands of Scotland. The best bit is that no prior experience is necessary and trips can be tailored from family-friendly to high adrenaline.
Coasteering is much more than just a day of thrills and spills. Along the way you'll get to meet some of the local wildlife and explore some of the UK's most spectacular coastal scenery, much of which can't be accessed any other way.
Words: Rob McFarland
Read More